Possum Removal Camberwell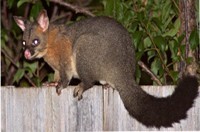 Are you struggling with possum infestations in your home or office? Contact the possum control experts from Possum Removal Melbourne. We are possum removal specialists in Melbourne, offering possum pest  control solutions to households and businesses across Camberwell and surrounding suburbs. Possums are marsupials, excellent climbers, and are notorious for damaging your property. From messing up the property to attacking your pets and ruining your space, these are such a nuisance. However, these are wild animals and protected species; our licensed possum removal professional can handle them humanely and get rid of them quickly.
Why Should You Eliminate Possums From Your Property, Camberwell?
Keeping possums out of your property is crucial for a safe and healthy lifestyle.  These nocturnal animals can quickly infest your home, mess up the area, eat up all the leftovers, steal your pet's food, and even spread disease to them. You should call our professional to eliminate the hiding possums from the property.
How Can We Help?
At Possum Removal Melbourne, we carry out possum removal in compliance with the government's regulations. Our team provides necessary measures to prevent them from returning to your property. If you want a possum control service provider in Camberwell, call 03 9021 3762 and speak to our experts today.
We also offer all pest control services Envirosafe, wasp control, bees removal, Ant Pest Control, Rat Removal.