Possum Removal Malvern
If you have a possum infestation in your property, you need to call a specialist to handle possum removal in Malvern. Possum Removal Melbourne is a licensed possum control company, serving the residents across Malvern and the surrounding suburbs for many years now. With the use of safe and humane methods, we carry out the job as per the regulations of the government.
Why Do You Need Possum Removal Malvern?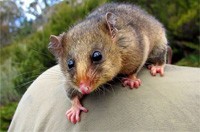 Possums may not harm the humans, but they cause extensive damages to the property and health issues to the occupants. They feed upon whatever food they find inside your home, including your pet's food. They also rummage around the garbage, ruin the garden and tear up the ductwork and insulation, which are expensive to fix. Their urine and faecal matter produce pungent odour and make your home unpleasant to live in.
How Can We Help?
When you approach us to help with possum removal, we will dispatch a team of experts to your home. Upon arrival, they will inspect your property and identify the extent of the infestation. Following the assessment, we will set up live traps in areas where the activities of possums are more. Once possums got trapped, we will release it within 50m radius of distance as recommended by the government.
If you are interested to work with our rodent control team, feel free to call 03 9021 3762 and discuss your pest control requirements with us today.
We also offer all pest control services including wasp control, bees removal, Ant Pest Control and Rat Removal.